Entertainment in the City of the Future
What might entertainment look like in the City of the Future? We know that it needs to be fun, vibrant and exciting. When visitors come to Raleigh, they need to leave with the feeling that they had a good time. The feeling needs to be strong enough that they tell their friends when they get home.

We can get ideas for Raleigh by looking at successful urban entertainment areas found in other cities. Here are three notable examples:
The Inner Harbor in Baltimore, MD

Inner Harbor is a vibrant outdoor space with plenty to see and do. Here's the description on its Web site:

Locals and visitors alike enjoy Baltimore's Inner Harbor and the surrounding neighborhoods that offer a variety of fine dining, cultural experiences and exciting nightlife. From breath-taking panoramic views of the skyline from the Observation Level of the World Trade Center to the up-close and personal experiences of street performances happening spontaneously at the waterfront, Baltimore's Inner Harbor offers more to see and do than you might imagine and it's all within walking distance!

There are dozens of restaurants, six ships to tour, the amazing National Aquarium, and just a few blocks away are the city's stadiums and a huge train and technology museum.

Broadway At The Beach in Myrtle Beach, SC

If you've never been to Broadway at the Beach, here is a quick introduction:

As the video mentions, it caters to a variety of tastes and includes restaurants, shopping, nightlife, theaters and even an active volcano. Click here to learn more:

Universal City Walk in Orlando, FL

Here's the description on its web site:

Ask any local - Universal CityWalk is Orlando's hottest spot for dining and entertainment, offering everything from a night of family fun to a great place to hang out with friends to romantic fun for couples. It's a 30-acre entertainment complex where you can experience the best of the best in live music, casual and fine dining, dancing, shopping, movies, and more.
Could we build a true urban entertainment district, like the ones described above, in downtown Raleigh? Here's one idea. What if we took the land now occupied by Moore Square and several adjacent blocks and built a startling attraction of the caliber seen in the three examples above? This is one proposed downtown site: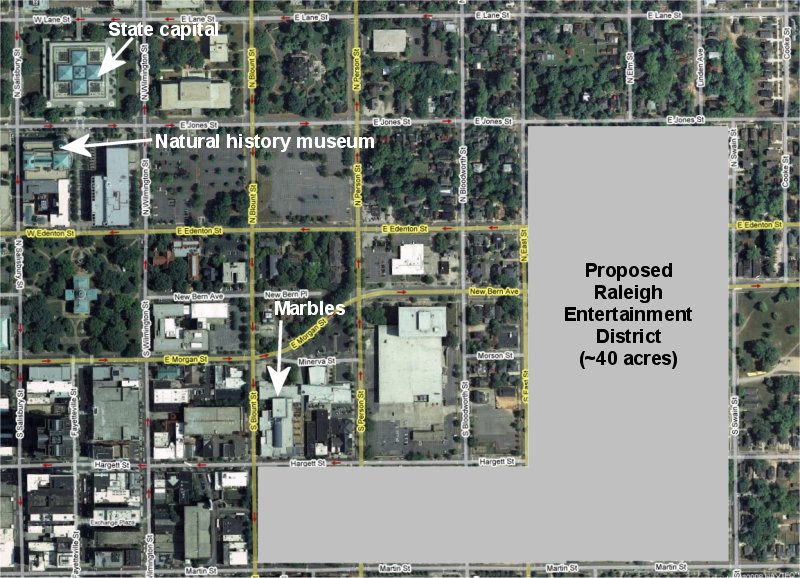 To provide some sense of scale, here is the same view with the body of Universal City Walk superimposed on it: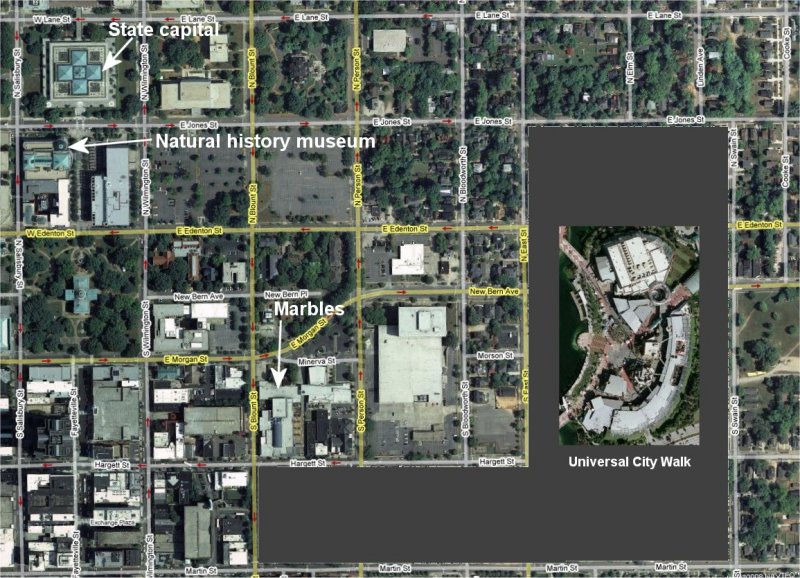 The point is simple: it would be relatively easy to make Raleigh far more entertaining than it is today for visitors and residents alike.
Table of contents: