include "top.inc" ?> include "start-head.inc" ?> Toilets can kill small children include "end-head.inc" ?>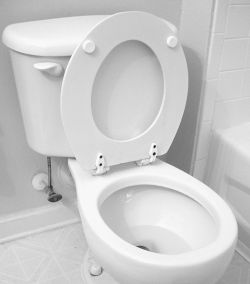 Toilets are just like buckets -- it is incredibly easy for a small child to tip into a toilet and drown. According to the Consumer Product Safety Commission:
Toilets are often overlooked as a drowning hazard in the home. The typical scenario involves a child under 3-years-old falling headfirst into the toilet.
Avoiding this problem is as simple as keeping the toilet seat down and keeping the bathroom door closed. include "start-small-head.inc" ?> Steps you can take include "end-small-head.inc" ?>
Keep the toilet seat down at all times
NEVER allow children to play in the bathroom
Keep the bathroom door closed at all times
Consider purchasing a toilet seat latch
include "start-small-head.inc" ?> Additional Resources include "end-small-head.inc" ?>