How to Make a Million Dollars
Introduction
by Marshall Brain
Last week I was invited to speak to a group of 200 students at Duke University. The organizers gave me pretty much free rein in picking my topic, so I decided to talk about this: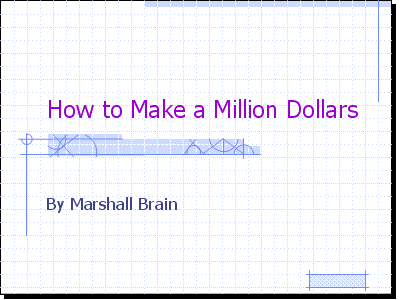 How to make a million dollars is: a) something students are interested in, and b) something I am qualified to talk about. And the talk went really well. So well, in fact, that I have received requests for copies of the presentation.
Prefer the Kindle?
"How to Make a Million Dollars" is now available on the Kindle
I did not make a tape, so what I have done here is lay the talk out in writing for you to read at your leisure. I hope that it is helpful to you, and and that it shows you how to begin walking down the path to wealth.
Let's get started on making your first million dollars...
© Copyright 2012 by Marshall Brain. All rights reserved.