How to Make a Million Dollars
Save $5 a day
by Marshall Brain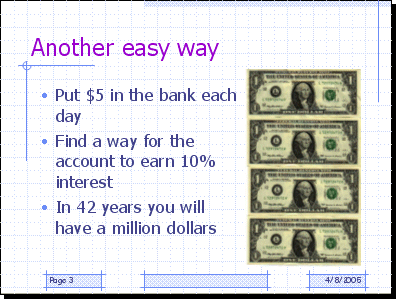 If you want to make a million dollars, all ya gotta do is put $5 in a bank account every day. Just about anyone can come up with $5 a day. It is not a huge deal -- heck, a pack of cigarettes costs $5 in a lot of places these days. You put the money into an account, like a stock mutual fund, that gives you 10% per year interest on average and presto. In 42 years you have a million bucks. What could be easier than that?
The problem is, who wants to wait 42 years? It takes too long. What do you do if you want to short-circuit the process and make a million bucks in a couple of years?
There is only one way in America to accomplish that reliably...
<< Previous Slide | Introduction | Next Slide >>
---
You may also enjoy this in-depth interview, "Marshall Brain on Singularity 1on1: We're approaching humanity's make or break period":
© Copyright 2012 by Marshall Brain. All rights reserved.