My Dukan Diet Experience
(I lost 52 pounds on this diet)
by Marshall Brain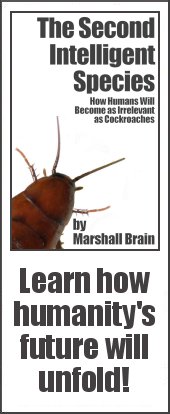 I started with the Dukan diet innocently enough. I had read about the diet and wrote an article about it on my HowStuffWorks blog:

- How the Dukan Diet works – The French diet that is supposed to end the obesity epidemic

It sounded really interesting, and after a week I decided to try it out. I had nothing to lose, and I have been trying to lose weight for years. So I started with the "attack phase". The first day I tried it, I completely failed by noon. So I waited two days and tried again. It went much better the second time, as described here:

- Yesterday I finished a five-day "Attack Phase" on the Dukan Diet and lost 6.6 pounds – here's a report on how it went (days 1 to 5)

That worked incredibly well - much better than I ever would have suspected - so it was completely natural to stick with the program and enter Phase 2, the Cruise Phase. Here is a week-by-week diary of my experiences on Cruise phase:

I also made this video on the Dukan diet and obesity, which you may find helpful (and which also shows a "before" picture):

Because HowStuffWorks is a large, well known site with tons of traffic, my Dukan Diet articles on HowStuffWorks have been read by millions. It really was a great experience. I was interviewed by ABC twice, I appeared on the Dr. Oz show, etc. But then let me tell you what happened next...

Phase 3

This all sounds great. You can see that Phase 1 and Phase 2 went well for me. So what happened in Phase 3? I would say that I am still learning to master Phase 3. Here are some thoughts.

I can tell you that, for me personally, the reintroduction of carbs in Phase 3 has not been something I manage very well. I am not unique in this - I have several friends who experienced the same thing.

What my friends and I find is this: when carbs are reintroduced, they seem to be accompanied by overeating. Overeating escalates. Weight comes back on very quickly. Then the only choice is to go back to Phase 2 for weeks and weeks to take the weight back off. I have done this a couple of times, going back to Phase 2, losing weight, trying once again to enter Phase 3 and re-introduce carbs... and then things spiral out of control.

I had dinner with a friend this week. He has just come off of Phase 2, having gone back down to his target weight yet again. He said, "You know, last night I ate an ice cream cone, and I said I would eat just that one, but before I knew it I had eaten three. And then an hour later I was asking myself, 'what am I doing?!?!'" Whenever I reintroduce carbs, that is what seems to happen to me too. I cannot explain it. He cannot explain it. But it is a consistent thing in both of our lives.

Each time I reintroduce carbs I think, "OK, this time I will be able to control it!" Each time I fail. I fully realize that it is my brain and my mouth - I should be able to use my brain to keep things out of my mouth. When I am in Phase 2, trying to abstain from carbs totally, I am not perfect but I am OK. I will have bad days (or very bad days), but then I can get back on the wagon. But if I am allowing carbs in on a regular basis, it is a problem. These two articles help illuminate why that may be:

As best I can tell, if I want to not-be-fat, my only option going forward is to either be in Phase 2 (i.e. no carbs) or to be on full-time conscious calorie restriction (with carbs). And the problem with carbs is that it is soooo easy to slip up. It really has been difficult to manage. Conscious calorie restriction does not work very well for me when I am eating carbs.

More articles that may help you

I really am starting to believe that the right path for me is to be in Phase 2 (nothing but protein and vegetables) for the rest of my life...

I have learned so much in the process of using this diet. Here are some other articles I have written during my expedition in weight loss:

- What is your "ideal weight" if you want to be healthy?

- How much does the Dukan Diet cost per day?

- How does your appearance change when you become obese?

- What if everything that we are taught about carbs is actually propaganda?

- Drew Carey loses 80 pounds with a no-carb diet

- Would you like to lose weight? Video shows the latest science on what works and doesn't

- How Carbohydrates Don't Work – in fact, carbs are probably causing the obesity epidemic. If you are overweight, it is probably the carbs.

- All the dire warnings I have gotten about the Dukan diet have turned out to be wrong

- Very cool calculator for calculating your specific dietary needs – Protein, carbs, fat, vitamins, etc.

- How Treadmills and Exercise Bikes Don't Work – if weight loss is your goal, High-Intensity Interval Training (HIIT) is a better option

- This has got to be the easiest weight loss tip ever

- When a person is fat, how is the fat distributed in the body (amazing x-rays)?

- Why America is obese #1 and Why America is obese #2

- How Seitan (also know as Wheat Meat) Works - a vegetarian form of protein made from wheat gluten

- How to make Greek yogurt at home and cut your yogurt costs in half and I made half a gallon of Greek yogurt this weekend – talk about cheap and easy! And Tasty!

And:

1) How to live to be 100 years old

2) How Cholesterol Works – The leading cause of the #1 killer

I did reach my target weight of 175 pounds in October, 2010. I started at 227.6 pounds, so I lost 52 pounds. You can see before and after photos here. I am now in the consolidation phase (phase 3) of the Dukan diet.
---
---

You may also enjoy this in-depth interview, "Marshall Brain on Singularity 1on1: We're approaching humanity's make or break period":
© Copyright 2003-2017 by Marshall Brain. All rights reserved.