Every time there is a big winter storm or hurricane that takes out the power grid for an area, we suddenly become very aware of electrical lineworkers. These are the people who put all the downed/damaged power lines back together after the storm. But they also do lots of stuff during a normal day as well in the form of repairs, upgrades, installations, etc. Every time you see a bucket truck working on a power line, you are seeing lineworkers in action. Glen Campbell even had a famous song many years ago called Wichita Lineman that made the job famous for a time.
This is not a glamorous job necessarily, and sometimes you end up working in atrocious weather, but the job can pay well. If you look it up on Google you will see a block like this: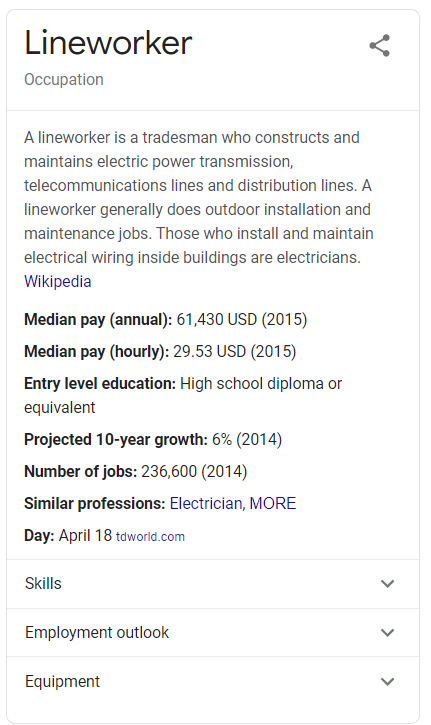 A lineworker is a tradesman who constructs and maintains electric power transmission, telecommunications lines and distribution lines. A lineworker generally does outdoor installation and maintenance jobs. Those who install and maintain electrical wiring inside buildings are electricians. Wikipedia
$60,000 a year or $30 per hour is something to think about, and no college degree is required. There is also demand and job openings. But you do need a little training, as described in these videos:
Getting the training to be a Lineworker
There are different ways to get the training. Community colleges in your area may offer the training, as described in this video:
There are also commercial options that are easy to find with a Google search.
More Jobs Articles
Easy directory of all of Marshall Brain's Jobs-related blog posts: